Imaginarium 2015 is proud to announce a most dynamic duo to host ceremonies at this year's event! Imaginarium will feature BOTH a Toastmaster and Toastmistress, with Allan Gilbreath and Kimberly Richardson taking the stage throughout the weekend! Attendees are in for a unique and unpredictable presentation from two incredible individuals who are well-loved throughout the convention circuit!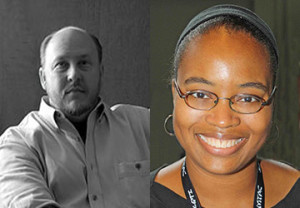 Allan Gilbreath and Kimberly Richardson
Official Toastmaster and Toastmistress for Imaginarium 2015
About Allan: Allan Gilbreath denies he was raised by wolves, but still enjoys quiet moonlit evenings. He is an accomplished skeptic, cook, gardener, computer geek, martial artist, and avid student of arcane knowledge
Allan is also a nationally recognized and award-winning author, publisher, speaker, and instructor. He has appeared on television, stage, movies, radio, web/podcast, and tours the country in live appearances. In his adult vampire novels, Galen and Dark Chances, he links sensual fantasy with danger and predation to excellent effect. His exceptional use of plot tension between the various characters sets a wonderful stage for the little details that bring it all to life. Allan's Jack Lago supernatural mysteries are known for their attention to detail and suspense. His short stories have appeared in numerous anthologies and his collection, Allan Gilbreath: A Short Story Collection covers his three favorite genres; science fiction, dark fantasy, and steampunk. He is currently working on several media projects including paranormal research, comedy shows, and action movies. For more information please see: http://www.darkoakpress.com.
About Kimberly: After found as an infant crawling among books in an abandoned library, Kimberly Richardson grew up to become an eccentric woman with a taste for jazz, drinking tea, reading books, speaking rusty French and Japanese, playing her violin and writing stories that cause people to make the strangest faces.
Tales From a Goth Librarian, published through Dark Oak Press and named a Finalist in the USA Book News Awards for Fiction: Short Story for 2009 and the International Book Awards for Fiction: Short Story in 2010. Author of The Decembrists and Mabon/Pomegranate, the upcoming books Tales From a Goth Librarian II, The House of Ginkgo, Through My Eyes: A Photographic Journey and Open A, as well as the editor of Realms of Imagination: An Urban Fantasy Anthology and the award winning Steampunk anthology Dreams of Steam and the award winning sequels Dreams of Steam II: Of Brass and Bolts, Dreams of Steam III: Gadgets and Dreams of Steam IV: Gizmos, and the upcoming Dreams of Steam V. A contributor to the anthologies BLACK PULP and the upcoming ASIAN PULP, Garbanzo Literary Journal Volume III, and Luna's Children: Stranger Worlds, a werewolf anthology. Other short stories and poetry by Ms.Richardson have been published through Sam's Dot Publishing/Alban Lake Publishing, Midnight Screaming, and FootHills Publishing.
Ms.Richardson is also the Programming Director for Memphis Comic and Fantasy Convention, a sci-fi convention held in Memphis, Tennessee.