Imaginarium 2019 is proud to welcome Brett Brooks as a spotlighted author and illustrator guest! Brett has worked for everyone from the Disney Design Group to the Hard Rock, Game Salute, The CW, M&M's and Netflix! A creator of graphic novels, Brett is also a screenwriter who had a recent short film project acquired by Showtime. Multi-faceted in his expertise, Brett is going to be a wonderful part of Imaginarium Convention's highly-acclaimed programming and we are excited to have him joining us this year!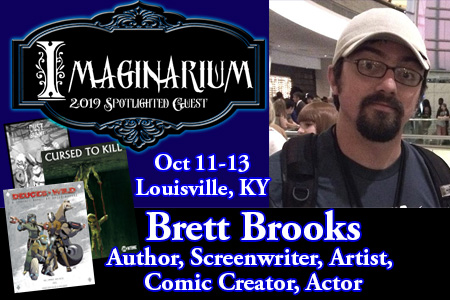 About Brett Brooks:
Brett Brooks is an Atlanta-based author and illustrator. He is the creator of the graphic novels Dust Bunny and Deuces Wild.
A graduate from the Savannah College of Art and Design, Brett began his industry career in 2008 at the Walt Disney World Company working as a character artist for the Disney Design Group. Since his time there, Brett has lent his illustration talents to such companies as Hard Rock, Game Salute, The CW, M&Ms, and Netflix.
Touring conventions with his stories and illustrations, Brett also leads a writing panel titled "Finding Your Story" – an introspective workshop that addresses topics ranging from story telling mechanics to exploring your own motives as a creator. He has presented at numerous conventions including Dragon Con, Pensacon, and Anime Weekend Atlanta.
Brett has also expanded his reach into cinema, having written the short film "Re Inc.," which was selected in 2016 for the Short Film Corner at Festival De Cannes. His most recent accolade in film writing and acting is the mystery/thriller feature film "Patient," re-titled "Cursed to Kill" which was acquired by Showtime in 2017.