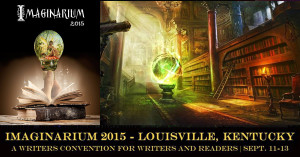 Full Imaginarium Schedule Available For Browsing
From panels and workshops, to live music, Q&A's, and live readings…from gaming and a film festival to an expo and costume contest/masquerade…Imaginarium offers attendees a lot do explore and participate in.
See the full schedule with times and room listings on the website under Programming or you can also use the EventBase app for smartphones!
Get ready to enter the Imaginarium this coming weekend in Louisville, Ky!