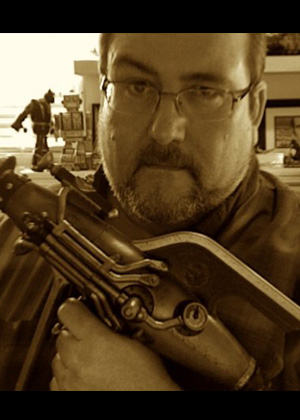 Anthony Taylor
Author/
Screenwriter
Anthony Taylor is a screenwriter, author, and journalist. He is the author of Arctic Adventure!, an official Thunderbirds™ novel based on the iconic British television series by Gerry and Sylvia Anderson. In addition, he wrote and directed the short film Norman Dates, as well as writing episodes for the animated television series Paddle Pop. Anthony also wrote Voyage to the Bottom of the Sea: The Complete Series – Volume 2, which includes reprints of the classic Gold Key comic book stories and The Future was FAB: The Art of Mike Trim, chronicling artist Mike Trim's career designing models and special effects for Thunderbirds, Captain Scarlet, UFO, and illustrating the cover for Jeff Wayne's musical War of the Worlds album.
He was a monthly columnist for Toy Shop Magazine for 12 years covering garage kits and sci-fi collectibles. In addition, Anthony was a regular contributor and editor for the British magazine Sci-Fi & Fantasy Models International, and contributed a chapter on the Flying Sub miniatures from Voyage to the Bottom of the Sea for the book From Sketch to Screen. His articles have appeared in SFX, Video WatcHDog, Fangoria, Screem, Famous Monsters of Filmland, FilmFax, Amazing Figure Modeler, Effects Special, Modeler's Resource, and many other magazines. Anthony also designed and co-edited CultTVMan's Ultimate Modeling Guide to the Jupiter II as well as CultTVMan's Ultimate Modeling Guide to Classic Sci-Fi Movies.
You can find him online at http://Taylorcosm.com.