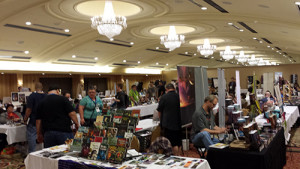 Imaginarium 2016's Expo is open to the general public for free! Come and browse a variety of vendors in the creative worlds of books, gaming, movies, art, and much more!
Expo Hours for 2016 are:
Friday: 3 pm to 8 pm
Saturday: 9 am to 8pm
Sunday: 9 am to 5pm
A couple of vendor spots are still open for reservation, if you would like to be a vendor at Imaginarium 2016 click here to reserve space.