Imaginarium 2019 is proud to welcome award-winning, best selling author Abigail Keam as a Spotlighted Guest! Abigail's Josiah Reynolds Mystery Series is a tremendous indie author success story, and her writing spans other genres including romance and fantasy. Abigail brings a wealth of expertise in publishing, today's market, and the craft of writing to our programming and we are elated to have her with us!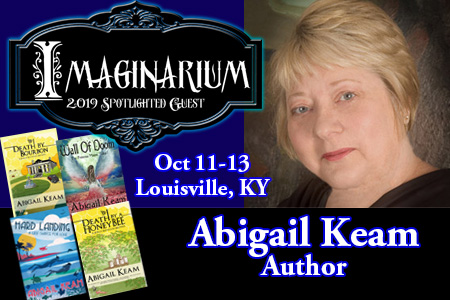 About Abigail Keam:
Abigail Keam is a best-selling and award-winning author who writes the Josiah Reynolds Mystery Series about a female beekeeper turned amateur sleuth. Josiah solves mysteries with her quirky friends in the Kentucky Bluegrass where fast horses, bourbon, and secrets abound. Like her heroine, Josiah, Miss Abigail adores chocolate, bourbon, chocolate with bourbon, horses, and honeybees.
Miss Abigail also writes the Last Chance For Love Series. This is an inspirational series where people with problems visit the Last Chance Motel in Key Largo in desperate attempts to change their lives. There are many "happily-ever-afters" in these sweet and magical tales of love and redemption.
In addition, she has an epic fantasy series for those who like to read action/adventure – The Princess Maura Tales. Princess Maura must fight to keep her throne and save her people. even if it means destroying the man she loves.
Miss Abigail is also an award-winning beekeeper who has won 16 awards at the Kentucky State Fair including the Barbara Horn Award which is given to beekeepers who rate a perfect 100 in a honey competition. Like her protagonist, Josiah Reynolds, she was a professional beekeeper and sold honey at a local farmers' market for years.
She currently lives on the Kentucky River Palisades in a metal house with her husband and various critters. She still has honeybees.