Imaginarium 2019 proudly welcomes writer, director, artist and SFX artist Terence Muncy as a Spotlighted Guest. Terence's range of expertise in multiple spheres of creativity will be a great addition to our extensive programming! Attendees are going to enjoy meeting him and we are very excited to have Terence joining us this year!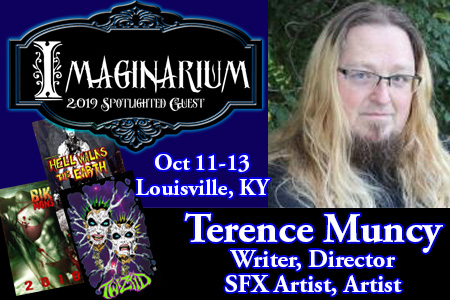 About Terence:
Terence Muncy is an artist, director, writer and special effects artist originally from Harlan, Kentucky. Terence is the owner of Warbranch Productions and Black forest Studios in Indianapolis, Indiana. Some of the films that he has directed or been a part of include "The Shack" (2004) Short Film (Director, Writer and FX), "Hell Walks the Earth" (2007) (Director, Writer and FX), "X" (2008) (Director and FX), "Bikini Monsters" (2010) (Director, Writer and FX), "Masters Devils" (2011) (Director and FX), "Slice" (2012) (Director, Writer and FX), "All Sinners Night" (2015) (FX), "Belly Tember" (2017) (FX) and "Walls of Blood" (2018) (Director, Writer and FX).
Terence is the Head Set Fabricator, Set Director and FX and Prop Builder for the "Sammy Terry Nightmare Theater" which Sammy is the longest running horror host in America.
Terence is known as an artist as much as he is for his special effects work. His work includes CD cover art for the groups Pagan 13, Shocker, Trilogy and Bulletproof and the Fool and he has designed T-shirts for the group Twiztid. Terence has created artwork for Legion Studios and is the artist for the German He-Man Magazine. He has also created artwork for the actors Felisa Rose, Ari Lehman, John Dugan, Mike Christopher, Kane Hodder, Josh Turner and Sonya Thompson.