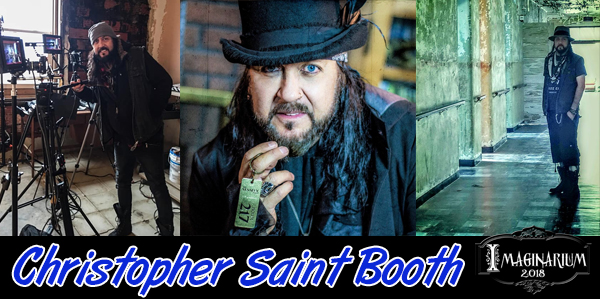 Imaginarium 2018 is proud to announce Christopher Saint Booth as an Imaginator Guest! An exceptionally-talented creative with a host of awards and accolades in many areas, Christopher is a tremendous example of the kind of spirit that Imaginarium Convention represents.
We are thrilled to have Christopher joining us for our 5th year, and we know that our attendees will love meeting him and learning about all the areas he is active in!
About Christopher: The multi-talented Christopher Saint Booth is an award-winning author, artist, musician, photographer, producer, director, composer and production designer of films, TV, and documentaries for outlets such as SyFy Channel, Chiller, NBC Universal, Sony Pictures, Redbox, Amazon, Travel Channel, Destination America, Discovery, Netflix, iTunes, Disney Hulu, Vimeo, YouTube Red, Spooked Productions, AT&T, Roku, Apple, and foreign distributors worldwide. He is the CEO of Spooked Productions and Twintalk Entertainment.
Christopher is known for the films: Dead Still (Syfy) Death Tunnel (Sony Pictures), The Possessed, Spooked, Children Of The Grave (as seen on Syfy), The Exorcist File (Redbox) and DarkPlace (Amazon).
Christopher was the lead singer in the rock and roll band Sweeney Todd (London Records), replacing Bryan Adams. He also founded Haunting Captures, which specializes in supernatural photography.
You can follow Christopher online at his site:
www.spookedtv.com
About Imaginator Guests: Since our debut in 2014, Imaginarium Convention has designated special Imaginator Guests to be spotlighted and celebrated. Each Imaginator is carefully chosen as a strong example of the kind of creative spirit that Imaginarium embraces and seeks to foster. Imaginator guests are featured in special Q and A's, highlighted at Opening Ceremonies and Awards Banquets, given special designation in the vendor hall (some with featured signing times), and appear on prime panels or workshops. For further information on Imaginarium, please visit our site at www.entertheimaginarium.com